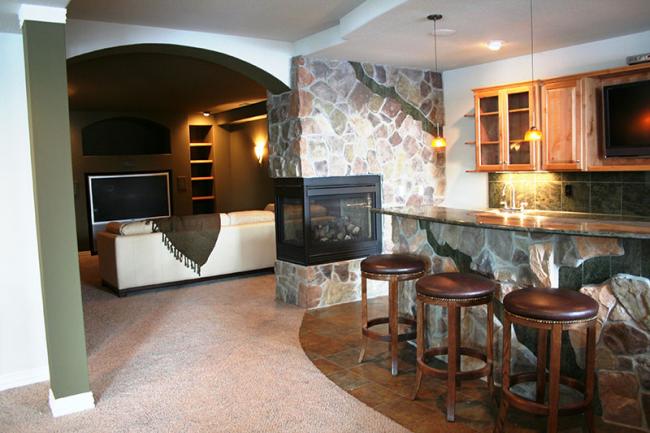 A lot of homeowners, homebuyers, and real estate agents ask the question, 'What is a finished basement?' This is a question that comes up for a lot of people due to the fact that the property value of a house increases significantly when the basement is finished.
There are many homeowners that have a semi-finished area in their basement that's used as a bedroom, recreation room, or another amenity. Because the room is being used as a livable space, people may consider it finished. However, that's not the case - just because a basement is being utilized as a living space, doesn't mean it's complete.
What is a Finished Basement?
So, what constitutes as a finished basement? A basement is finished when the entire level is complete and similar to the upstairs living areas. It generally includes an electrical system, heat, finished floors, an accessible entrance/stairway, level ceilings, and finished walls. If there is a bedroom designated in the space, it should have a closet and egress window in order to count as a bedroom.
Below are some questions that can help determine the state of a basement.
How to Determine if a Basement is Finished
Generally you can tell if a basement is finished just by looking at it. However, that's not always the case. The following questions will help you indicate whether or not a basement is finished.
What does the heating and cooling system look like?
A great way to determine if a basement is a finished basement is whether or not it's heated and cooled with the same system as the rest of the house. If the basement uses a window AC unit or a swamp cooler to cool it down and a wall heater to warm it up, then it's not finished.
In order for a basement to be considered finished, it must have a permanently installed heating and cooling unit with a continuous power source (such as an HVAC system, electricity, natural gas, a permanently installed propane tank, or heating oil).
Does the basement match the rest of the house?
Does the basement have concrete walls and floors, but the rest of the house has carpet, vinyl, wood, tile, etc.? This is a sure sign that it's not finished. The floors must be completely covered with an installed cover. Exposed or painted concrete or plywood is not considered a finished floor.
Another indicator would be the walls and ceiling. If the walls are just painted concrete and there's no drywall, it's unfinished. Or if the ceiling has exposed beams or poles, then the basement is also deemed incomplete.
How do you access the basement?
A finished basement must be directly accessible and contiguous with the rest of the house. If the space doesn't have permanent stairs or direct access then it isn't considered a finished living area. Finished spaces only accessed by ladders, such as lofts, are also not considered living areas.
Most houses have interior stairs, but in older homes it's common that the basement is accessed through a basement level door. Even though the basement may be finished, if the only way to access it is through an exterior, basement level door, it may still be ranked as unfinished.
Contact an Expert
Custom Integrated Designs Ltd. offers full-service basement finishing and remodeling services to Castle Rock, Aurora, and surrounding Denver Metro areas. If you have any basement finishing related questions or you're in need of professional services, please don't hesitate to call 303-591-7100 or email info@cidbasements.com.