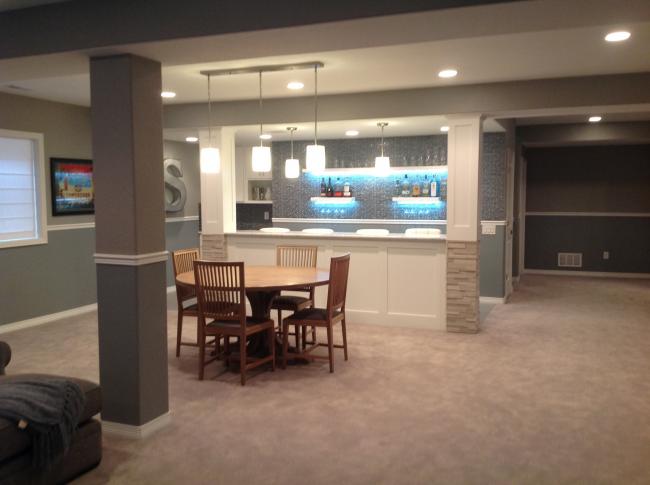 Whether you're renovating, remodeling, or finishing your basement, finding the perfect basement design is a task every homeowner should enjoy. When you get the liberty of designing your basement anyway you choose, you should definitely have some fun with it.
So, in order to get the design of your basement complete and make your house a home, the following steps will ensure you're on the right track.
Basement Design Steps
Step 1: Hire a Contractor
Custom Integrated Designs Ltd. advises homeowners to use a basement design contractor to help map out the design of your basement. Design companies like CID can help you pick the best layout that matches your vision. They also pay close attention to detail and can even help save you money in the long run.
Step 2: Get Inspired
It helps to know what you want before you get started. So start by Googling some great basement layouts. Hop on Pinterest and peruse some inspirational home designs. You can even check out some of your friends or neighbors basements for further encouragement. Once you find out what you love and what you could do without, you'll be ready to move forward.
Step 3: Take Measurements
Once you have an idea in mind, it's time to get started with your contractor. You can go through and start taking measurements of all the existing walls in your basement. All you need is a standard tape measure and place to document the lengths.
Step 4: Map out Your Walls
Once you have the dimensions of your walls, you can begin mapping everything out. This is where a contractor comes in handy because they have plenty of experience. Then together you can start sketching out your new walls and designing the layout of basement. Let your creative side roll on this one.
Step 5: Insert Your Doors
Once you have walls planned out, you can put in the doors. This step is pretty simple and straightforward. Just markup your layout with entrances to each room. It's essential to complete this step since you'll need doors if you plan on spending any time in your new and improved basement.
Step 6: Electrical
Then move on to the wiring and electrical part. You will need to know where you want to put your electrical outlets and light switches. Plus you can think about adding dimmers to your light switches to set the mood for those special occasions. If you're not planning on doing your electrical on your own, then there's no need to design your electrical circuits.
Step 7: Plumbing
Now onto one of the most important parts - your plumbing. You and your contractor get to decide where to put in your toilets, showers, wet bar, etc. If you're thinking outside the box, you can also entertain the idea of putting in a pool, sauna, fish tank, hot tub - anything you want!
Step 8: Call in the Design Team
Once you have your ideal basement design ready, it's time to call in the team to put your design to life. Custom Integrated Designs Ltd. offers full-service basement design services including remodeling, materials selection, and construction. These services are available in Castle Rock, Aurora, and the surrounding Denver areas.