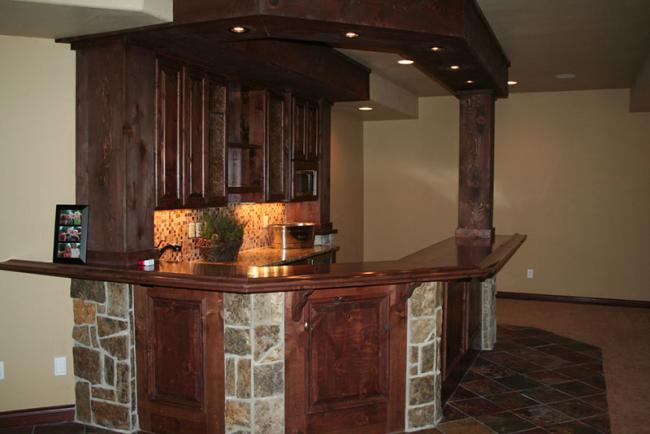 When it comes to low ceiling basement finishing, there are many opportunities to make your space comfortable and appear more spacious.
The ceiling height requirements for homes located in Colorado, including right here in the Douglas County, Parker, and Castle Rock area, must be at least 7 feet high. Check out Douglas County's Finished Basement Requirement Code for more information.    
However, anything under 7 feet 9 inches might start to feel like a cramped space. Once you account for finished floors and ceilings, the usable space in your basement will shrink even more. You really have to know what you're doing when designing or thinking about a low-ceiling basement project.
Choosing the right finishings and taking advantage of light and color can turn your cramped basement into the perfect space without sacrificing comfort. Follow these design hacks below for the perfect low ceiling basement.
Choose the Right Ceiling Finishing
With minimal headroom, choosing the right kind of ceiling finishing is an important way to maximize space.
The one kind of ceiling finish that you want to stay away from is a drop ceiling. Although these finishings are attractive and allow for easy access to the valves in the pipes above, drop ceilings take up too many inches of headroom, making the space feel even smaller.
Instead, opt for these finishing designs to save some headroom in your basement:
Wood Paneling: This design is an inexpensive option that closes off your ceiling without adding thickness. This finish can be stapled or nailed directly to the floor joists for a polished look.

Drywall: This option takes a little bit more time and energy, but once finished, offers a sleek finish. Drywall is a little bit thicker than wood paneling, but still offers more headroom than a drop ceiling.

Coat of Paint: The industrial trend of home decor is in style in modern homes. Why not follow along? Leaving the ductwork and floor joists exposed, is by far the cheapest option of them all. Applying a heavy duty coat of paint and ensuring that the area stays maintained is the most effective way to save headroom.
If you are worried about accessing the valves and pipes in your ceiling with a wood panel or drywall finish, consider inserting plastic access panels in those areas. This will allow you to access what you need without sacrificing headroom with a drop ceiling.
Minimize/Eliminate Subfloors
Some floor options for basements don't require a subfloor, which allows for 1-2 inches in existing low ceiling basements when eliminated. Choose a type of basement flooring that doesn't need a subfloor to maximize that space. An example of this is engineered wood flooring. This option is installed over a closed cell underlayment or poly barrier and standard underlayment. It offers a polished, modern look without taking up space.
Concrete subfloors are a great option for floor finishing. There are many ways that you can use this design. The most efficient way to use concrete subfloors is to leave it on its own. Give it a layer of paint and add rugs or a thin carpet choice to really pull the room together.
Another choice for basement flooring is to choose a subfloor option that doesn't take up too much space. An example of this would be a ceramic tile finish. The tiles can be laid directly onto the concrete and mortared into place. This design doesn't take up too much space and leaves a sleek polished floor finish.
Optimize Lighting
Basements with low ceilings are likely to feel dark and gloomy. To fight this, use lighting as your weapon. Both natural and artificial light can be used to effectively lighten the room up, which can also lead to the space looking larger. Here are some tips on both:
Natural Light: Make the most out of your windows to get as much natural light as possible. Ensure that nothing is blocking windows letting natural light in, such as furniture or walls. Keep your window treatments to a minimum to ensure that you are getting as much light as possible

Artificial Light: Use generous amounts of ceiling light fixtures. Lamps and wall lights can cast unattractive shadows which makes the room appear tightened and smaller. Use artificial light to complement the natural light that the windows bring in. Make sure that the walls are all completely lit. Avoiding shadows will make your room appear larger.
Find the Right Coloring
After focusing on the lighting in your space, you need to consider your color choices. Since we want a lot of light in your basement, you want to opt for brighter, solid colors that will open the space. Bright colored walls are also prone to bouncing light off of them, allowing for even more light to fill the space. Dark colors will make your space feel much smaller. Your space will feel much larger when bright colors are taken advantage of.
How We Can Help
Allow Custom Integrated Designs Ltd. to take your basement to the next level. If you're looking for the best tricks to make your low ceiling basement still feel roomy, CID can help with advice and basement finishing services. These services are available across the Castle Rock, Aurora, and South Metro Denver areas. Give us a call today to learn more.