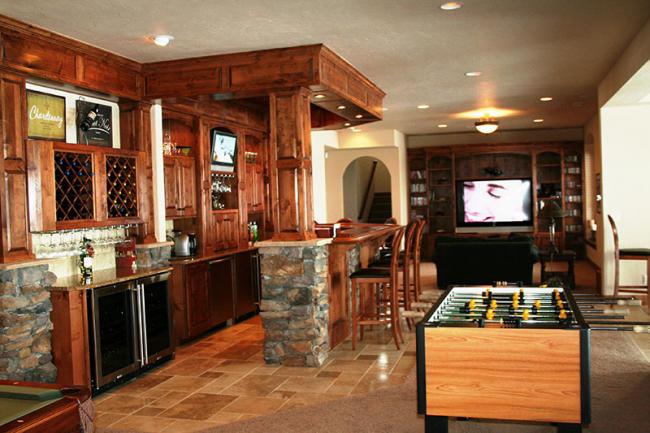 Finishing a basement can be a pain. That's why it's important to find the right steps to ease the process as much as possible. Whether you're in Castle Rock, Parker or another south metro Denver community in the Custom Integrated Designs service area, these steps can help you get started on your new and improved basement.
Steps to Finishing a Basement
Consider the Benefits of Hiring a Contractor
Finishing a basement doesn't have to be a hard task. The main thing is getting started. The first step should be to consider the benefits of hiring a local qualified contractor rather than making it a DIY project.
By hiring on a contractor there is no reason to wonder, "Am I doing this right?" Contractors are trained professionals and finishing a basement is their area of expertise. So no need for tedious YouTube videos and tutorials, the contractor has you covered.
Contractors can also help you come up with a design plan, set a budget and take care of the permitting process. With their help you can get a gorgeous design that also follows best practices for waterproofing and protection against radon gas.
Design
Designing your basement is the fun part. You can decide if you want a home theater, pool table, bathroom, bedroom - anything you want. This part can be 100% up to you, or you can lean on the design expertise of a contractor with 30+ years of experience in his trade. Even with a professionally finished basement, you still have all the say in the final plan.
There are several key features to account for when designing your basement. These include wall measurements, where you will need to add doors, framing, electrical outlets, light switches and plumbing fixtures.
If this seems a little overwhelming to you then no need to stress, that's also where a contractor can come in to assist you.
Permitting
In order to start your basement makeover you have to get a building permit and pass inspection. No need to stress though, if you have a contractor they can handle the permitting process for you. Permitting can be confusing and a hassle for people that aren't familiar with the process.
If you decide to handle permitting on your own, then check out our complete permitting guide. The process includes purchasing a permit and then setting up an inspection conducted by a licensed professional so they can stop in to make sure everything is safe.
 HVAC
You should also account for an HVAC system when developing your new basement. HVAC (aka Heating, Ventilation, and Air Conditioning) has to be accounted for in basement design because big, bulky heating and cooling equipment is often located in the basement. These units take up space and aren't very visually appealing.
A contractor knows how to plan around equipment and ducts without compromising a finished basement design.
Custom Integrated Designs Ltd. offers complete design and construction services for basement finishing and remodeling. CID owner and head contractor Jerry Vidmar specializes in unique floor plans, room design, custom cabinetry and architectural details. Please don't hesitate to contact him for any renovation, repair or remodeling needs.