So you're ready to get started on your basement remodel, and you're in luck! With over 30 years in basement finishing in the Denver Metro area, we have some incredible basement finishing ideas to make your remodel dreams come true.
CID Basements specializes in timeless remodels, which will keep your family happy for years to come. Ready for some unique basement design inspiration? Let's get started:
1. "Mine Shaft" Slide from Upstairs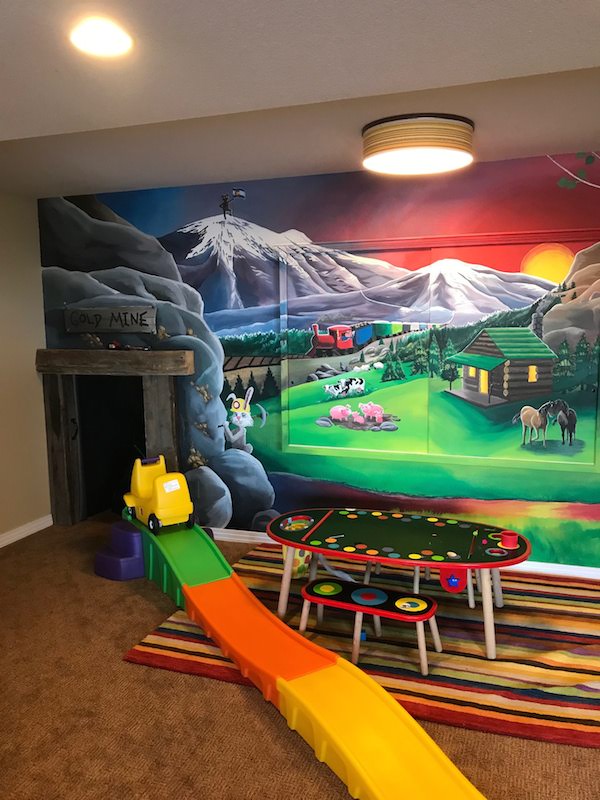 Definitely one of the more playful basements we've ever finished! The mine shaft slide was designed for kiddos (or adults, who are we kidding) to take the easy way from upstairs into the basement. Just hop on the slide for quick, fun and easy travel into your new lair!
2. Custom Stone Wainscoting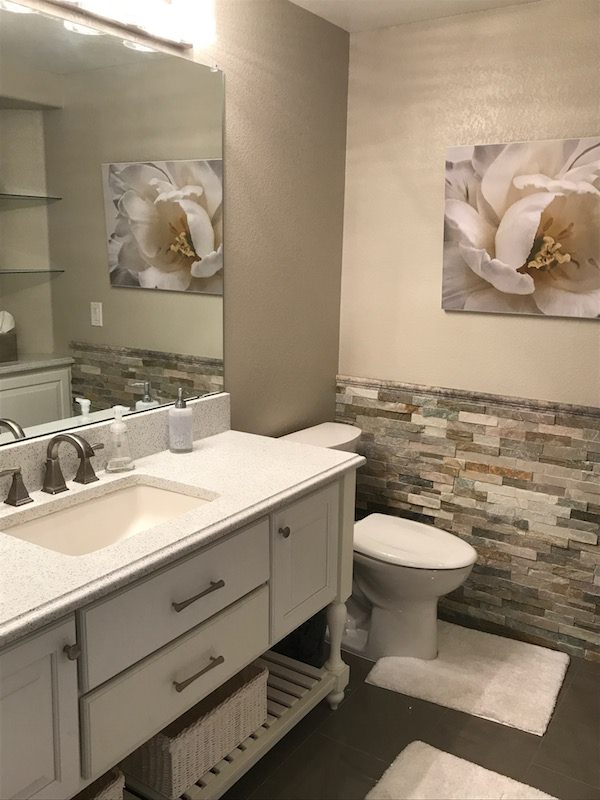 Wainscoting is timeless, stylish and gets a rugged update with this beautiful custom stone. Stone adds a layer of class and matches any color pallet. It's a simple way to increase the 'wow-factor' in any room. Bonus: the gorgeous custom vanity, with speckled stone counter-top and extra storage underneath!
3. Custom River Rock Shower Tile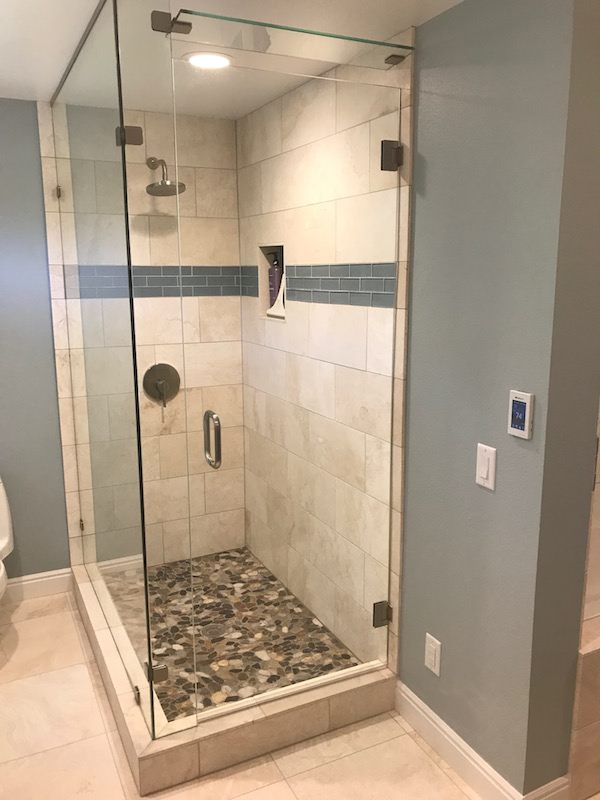 Is there anything more freeing than taking a skinny dip in a river? Bring the serene beauty of a mountain river into your home (minus the frigid river water), with custom river rock shower tiling. Each rock is beautifully unique, and compliments any color pallet.
4. The Best Room in the House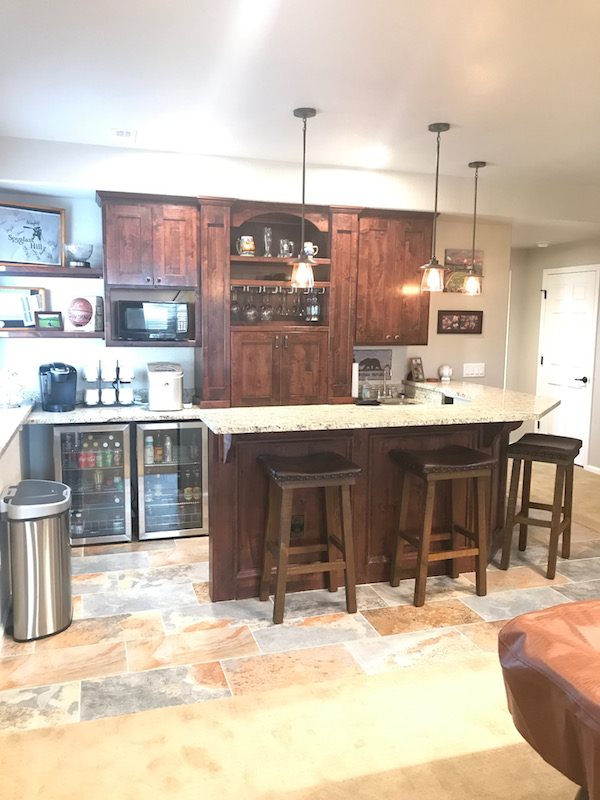 Custom wet bars are kind of our thing. This is where Jerry's lifelong dedication to beautiful custom cabinetry really shines, and your guests will be blown away at your next gathering. Our wet bars are designed with the host who knows his or her way around the bar. Jerry's wife is the ultimate hostess, and with her expertise, Jerry has been crafting wet bars that meet every need and whim of the celebrated party host!
5. The Paired Down Wet Bar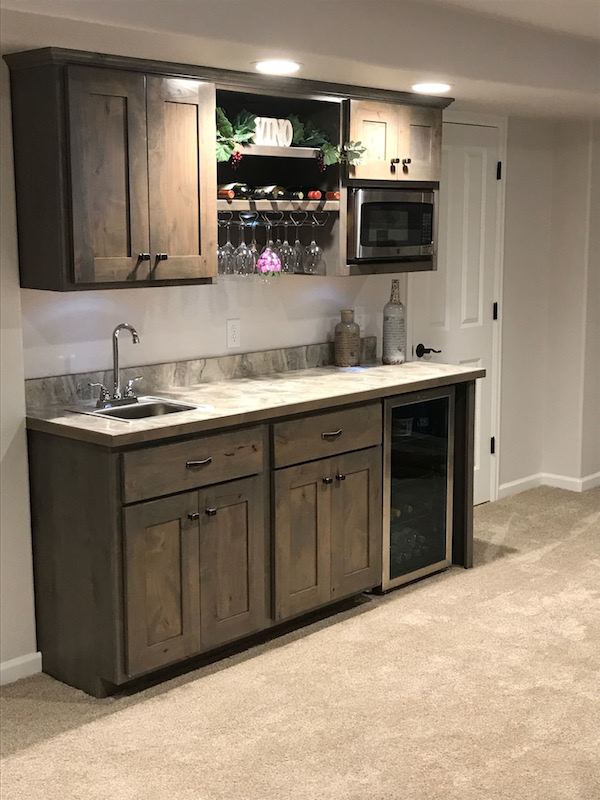 Don't need a full bar? No worries, Jerry takes the same requirements for a great party and pairs it down for smaller spaces, creating seamless bars that will suit any occasion. We especially love this rich matte finish on these cabinets, which highlights the gorgeous white marble countertop!
6. Above Counter Sink (aka: Vessel Sinks)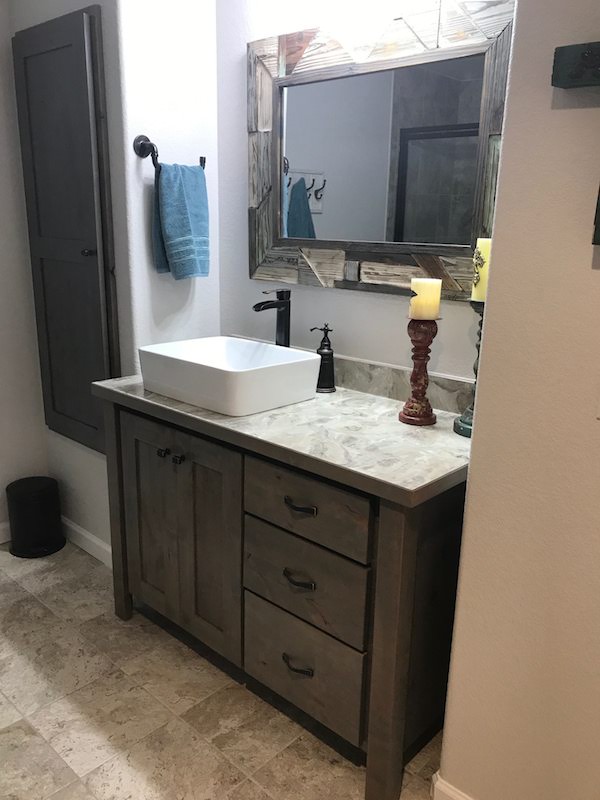 These sinks are all the rage right now, and will bring a timeless style to your basement. This is a great storage saving style as well, perfect for smaller bathrooms where storage counts. It's also a great way to create a custom vanity, or reuse a favorite vintage cabinet!
7. Custom Kids Playhouse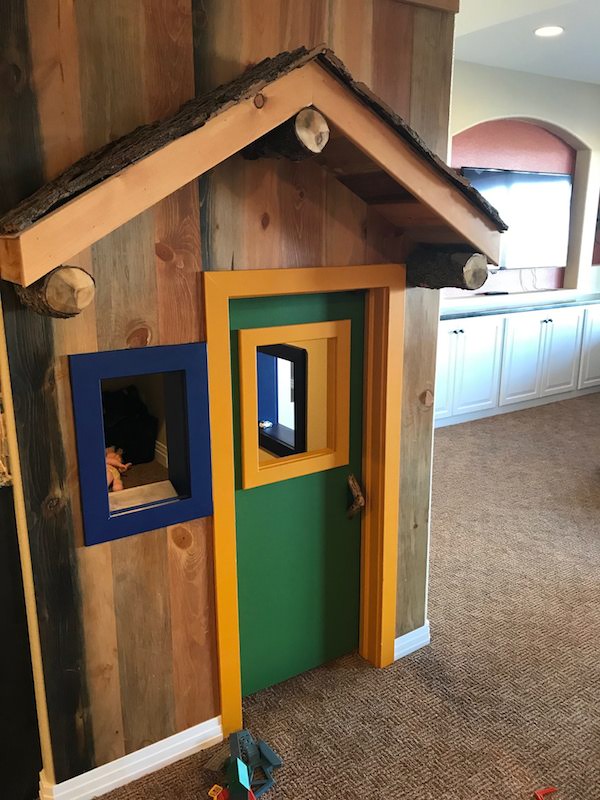 Another fun and fanciful basement, where the kids will get hours of entertainment! These playhouses are endlessly customizable. We've built them into stairwells, in large, unused corners, and have created a special place for the kiddos to play all day.
Basement Finishing Denver, CO
Like what you see? Get a Free Basement Finishing Estimate on the basement of your dreams, and let's build something incredible! Let Jerry and his expert team "take your basement to a new level"